Sounds Like Heaven (2022)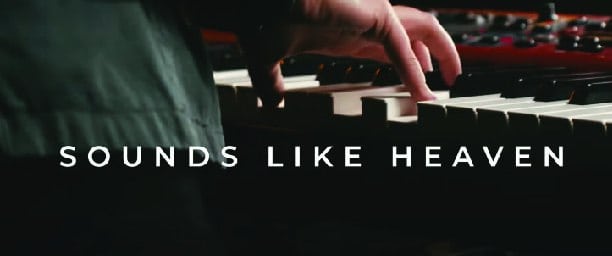 | Key | BPM | Time Signature |
| --- | --- | --- |
| C | 75 | 4/4 |
Make us patient,make us kind
Keep us humble, grant us peace of mind
Keep us honest, close to truth
Let us be quick to kindness
Oh your love unlike any other
It never fails to protect and pursue
Your mercy brings us together
And it sounds like heaven
Oh, it sounds like heaven
Oh it sounds like heaven
Oh, it sounds like heaven
Make us gentle, make us wise
Give us reason, discern and not despise
Keep us merciful, bearing fruit
Sowing righteousness in peace
Your love unlike any other
It never fails to protect and pursue
Your mercy brings us together
And it sounds like heaven
O it sounds like heaven
Your love unlike any other
It never fails to protect and pursue
Your mercy brings us together
And it sounds like heaven
Oh, it sounds like heaven
Oh, it sounds like heaven
Oh, it sounds like heaven
When your people sing
Lift You up, Lift each other
Oh it sounds like heaven
When your people sing
Lift You up, Lift each other
Oh it sounds like heaven
Oh your love unlike any other
It never fails to protect and pursue
Your mercy brings us together
And it sounds like heaven
Oh it sounds like heaven
Oh it sounds like heaven
Oh it sounds like heaven
When your people sing
Lift You up, Lift each other
Oh it sounds like heaven
When your people sing
Lift You up, Lift each other
Oh it sounds like heaven
Throughout 2020 and 2021, the division was rampant in our country. From race to politics to COVID-19, we struggled to find reasons to be united. Amid this chaos, you find the Church, and we find ourselves trying to give our church a song to sing. 
You see, we believe that worship is a declaration of war. Our church needed something to sing and be reminded of when they thought about what reconciliation looks like. 
So we wrote "Sounds Like Heaven" Unity comes from realizing that God created us all in His image. He loves us, and He wants us to love one another. 
We know as believers that when the church sings, when we lift each other up, and when we love one another, we echo the song of heaven. In heaven, there is perfect harmony and unity. There is no more strife or pain when we reach those celestial shores.
Our worship in the here and now points to the day that is to come when every barrier and wall of hostility will be torn down, and true unity will be perfectly achieved. 
When your people sing, lift You up, lift each other, oh it sounds like heaven was a line we wanted our church to sing out. No matter your background, nationality, the color of your skin, or what side of the political aisle you are on… we need to remember that when we pray and sing: make us patient, make us kind, keep us humble, grant us peace of mind, keep us honest, close to the truth, let us be quick to kindness, we are declaring a counter-cultural thing. 
We wrote those words in Verse 1 of the song to reflect what real love looks like… love that is described in 1 Corinthians 13::4–7
Love is patient and kind; love does not envy or boast; it is not arrogant or rude. It does not insist on its own way; it is not irritable or resentful; it does not rejoice at wrongdoing but rejoices with the truth. Love bears all things, believes all things, hopes all things, and endures all things. 
I mean, if we could get that last part… let us be quick to kindness… how much closer we would be to reconciliation. Heaven is our eternal home, and earth is our temporary home. We are just passing through. 
So we want to bring as much heaven to earth as we can by how we live, treat one another, and live out the tenets of the gospel. We want to be known for our love. 
Ultimately, God's love comes to us vertically, and we then share with others horizontally, which will lead to true reconciliation. It is love that will let us be patient with others, to lift one another, and this is seen when God's people gather to worship. 
That is our prayer. As we gather and lift the name of Jesus, we will echo heaven's sound.